We hope you are enjoying your stay in Rockay City!
The team at INGAME STUDIOS would like to say a big THANK YOU to everyone who has joined Rockay City's underground organized crime ring in an attempt to becoming the new Crime Boss! Some of you have made it already, some of you need more practice!
Before you head back to the city that never sleeps and go about your daily shenanigans, we want to give you an update of what is in the works over the next couple of weeks and months!
We've seen a lot of amazing videos including intense turf wars and nail-biting bank robberies, but we've also seen your comments and feedback. Rest assured, the team is watching and listening!
For all those who are new to Crime Boss: Rockay City, these are the modes which are waiting for you:
Baker's Battle: Play as Baker (Michael Madsen) in the single player campaign as he builds his empire.
Crime Time (Quick Play): Your smash & Grab go-to for hot action, big blasts, and fast cash (single player & co-op).
Urban Legends: Experience high-stake missions with the best characters & weapons (single player & co-op).
Let's get into the detail and check out what the team is working on right now:
(Please note the below features will be added to the game with the upcoming updates).
AI Improvements: Your AI teammates will become more proactive in helping you (eg when looting vans) and you will have more active control over them thanks to the new smart ping.
Aim assist for controllers.
Armory upgrade: You can sell and upgrade your weapons.
Balanced difficulty in Baker's Battle.
Improved character mission persistency in campaign: The progress of the character missions is saved. You will start from the point, where you ended in the previous walkthrough.
Introducing Difficulty options for Baker's Battle.
Introducing option to level up teammates.
Introducing Respect Level in Crime Time Mode (Quick Play)

The Respect Level in Crime Time is increased with successful missions and lost with failures.
Respect affects available missions, weapon & generic character rank, mission rewards and HEAT (police intensity in missions) in the Crime Time mode.
When reaching the Respect Level "Connected" (the second of six levels), big missions, such as Money Train, Import Export, The Hidden Vault, Dragon Dogs can appear on the map as regular missions, instead of being available solely as contracts.
In Crime Time, HEAT is based on respect. Higher RESPECT brings more heat, so while the game offers more opportunities, they are harder to complete. Lower respect goes with lower heat.

Invite your friends to big missions in Baker's Battle: Get help from your friends in your single player campaign by inviting them to the challenging big heists!
More mission variations.
Player Progression Improvements:

Improving player progression in Baker's Battle.
Brand new player progression feature in Crime Time mode.
Unlock items.
And more…

Random Chains in Urban Legends.
Unique teammates persistency in campaign: Unique teammates keep their promotion status across multiple campaigns.
UX & UI Improvements including an improved onboarding experience.
Variations of final turf wars.
You will be able to pick up weapon from enemies and friends.
This is just a top-line overview and there is way more to come. The team is working on some cool ideas, and we are excited to share more with you very soon!
The next free update for Crime Boss: Rockay City is just around the corner. Right now, we can't give you a firm date of what is coming and when, but we'll keep you updated! In the meantime, let us give you a sneak peek of how the Respect Level will look in the Crime Time mode as well as a glimpse of one of the new environments.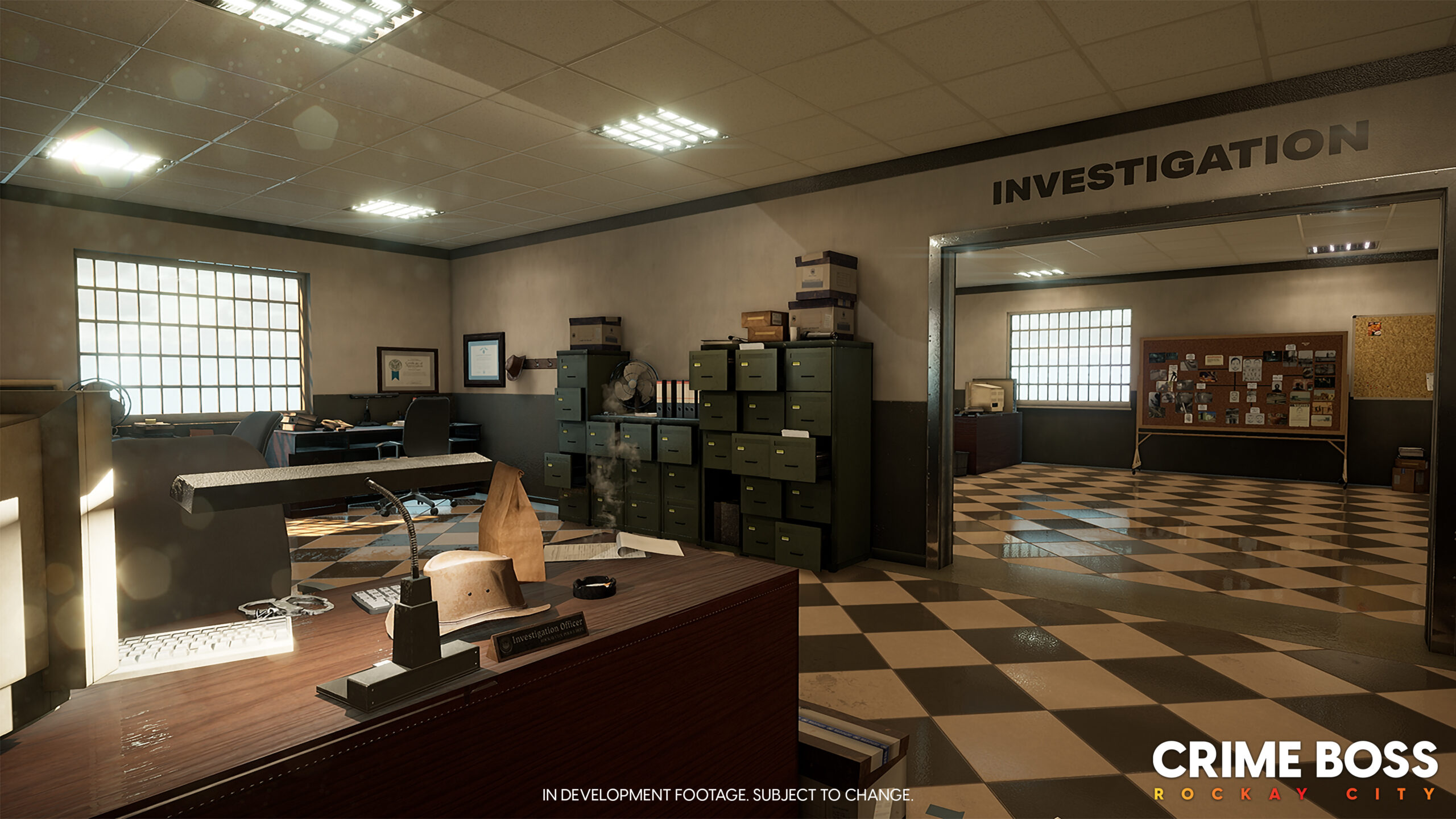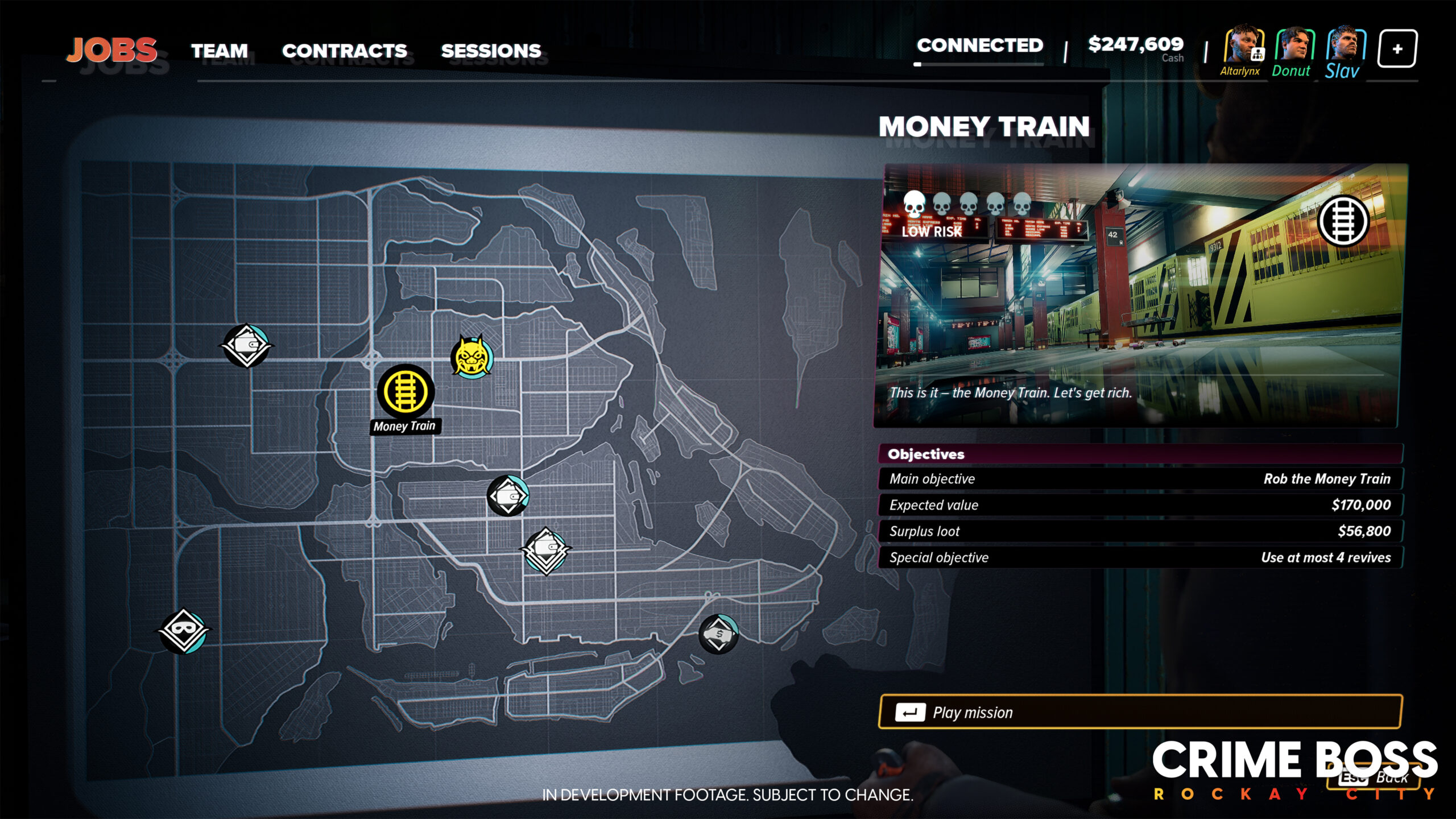 We will continue to make note of your feedback across social media and we invite you all to continue sending us your feedback. It is important for us to make Rockay City a wild adventure for everyone!
That's enough from us for now. Time to take over some turf!