¡Esperamos que estéis pasándolo bien por la ciudad de Rockay!
The team at INGAME STUDIOS would like to say a big THANK YOU to everyone who has joined Rockay City's underground organized crime ring in an attempt to becoming the new Crime Boss! Some of you have made it already, some of you need more practice!
Antes de que volváis a hacer de las vuestras por la ciudad que nunca duerme, ¡queremos poneros al día de lo que viene en las próximas semanas y meses!
We've seen a lot of amazing videos including intense turf wars and nail-biting bank robberies, but we've also seen your comments and feedback. Rest assured, the team is watching and listening!
Para los que seáis nuevos en Crime Boss: Rockay City, estos son los modos que os aguardan en el juego:
Baker's Battle: Juega como Baker (Michael Madsen) en la campaña para un jugador y acompáñalo a formar su imperio.
Hora del crimen (partida rápida) Si buscas acción trepidante, explosiones fuertes y dinero rápido, este es tu modo (un jugador y cooperativo).
Leyendas urbanas: Lleva a cabo misiones de alto riesgo con los mejores personajes y armas (un jugador y cooperativo).
Let's get into the detail and check out what the team is working on right now:
(Ten en cuenta que las funciones a continuación se añadirán al juego con las próximas actualizaciones).
Mejoras de la IA: Tus compañeros IA serán más proactivos a la hora de ayudarte (por ejemplo, a saquear furgonetas) y tendrás un control más activo sobre ellos gracias al nuevo ping inteligente.
Ayuda al apuntar armas para mandos.
Mejora de la armería: Puedes vender y mejorar tus armas.
Balanced difficulty in Baker's Battle.
Mejora de la persistencia de las misiones de personajes en campaña: Se guardará el progreso de las misiones de personajes. Empezarás desde el punto en el que terminaste en la anterior partida.
Introducing Difficulty options for Baker's Battle.
Añadida la opción de subir de nivel a los compañeros de equipo.
Añadido el nivel de respeto en el modo Hora del crimen (partida rápida)

El nivel de respeto en Hora del crimen aumenta al completar misiones y se pierde cuando fracasan.
El respeto afecta al tipo de misiones disponibles, al rango de las armas y de los personajes genéricos, a las recompensas de misión y a la PRESIÓN (intensidad de la policía en las misiones) en el modo Hora del crimen.
When reaching the Respect Level "Connected" (the second of six levels), big missions, such as Money Train, Import Export, The Hidden Vault, Dragon Dogs can appear on the map as regular missions, instead of being available solely as contracts.
En la Hora del crimen, la PRESIÓN depende del respeto. Un mayor RESPETO hará que haya más presión, por lo que, aunque el juego ofrezca más oportunidades, será más difícil completarlas. Un menor respeto resultará en menor presión.

Invite your friends to big missions in Baker's Battle: Get help from your friends in your single player campaign by inviting them to the challenging big heists!
Más variaciones de misiones.
Mejoras de la progresión del jugador:

Improving player progression in Baker's Battle.
Nueva función de progresión del jugador en el modo Hora del crimen.
Desbloqueo de objetos.
And more…

Cadenas aleatorias en Leyendas urbanas.
Persistencia de compañeros únicos en campaña: Los compañeros únicos conservan su estado de ascenso en múltiples campañas.
Mejoras de la interfaz y la experiencia de usuario, incluyendo una experiencia de introducción mejorada.
Variaciones de las últimas guerras territoriales.
Podrás recoger armas de enemigos y amigos.
Esto es solo un resumen superficial y habrá más novedades. El equipo está trabajando en ideas muy chulas, ¡y tenemos muchas ganas de poder enseñaros más cosas!
The next free update for Crime Boss: Rockay City is just around the corner. Right now, we can't give you a firm date of what is coming and when, but we'll keep you updated! In the meantime, let us give you a sneak peek of how the Respect Level will look in the Crime Time mode as well as a glimpse of one of the new environments.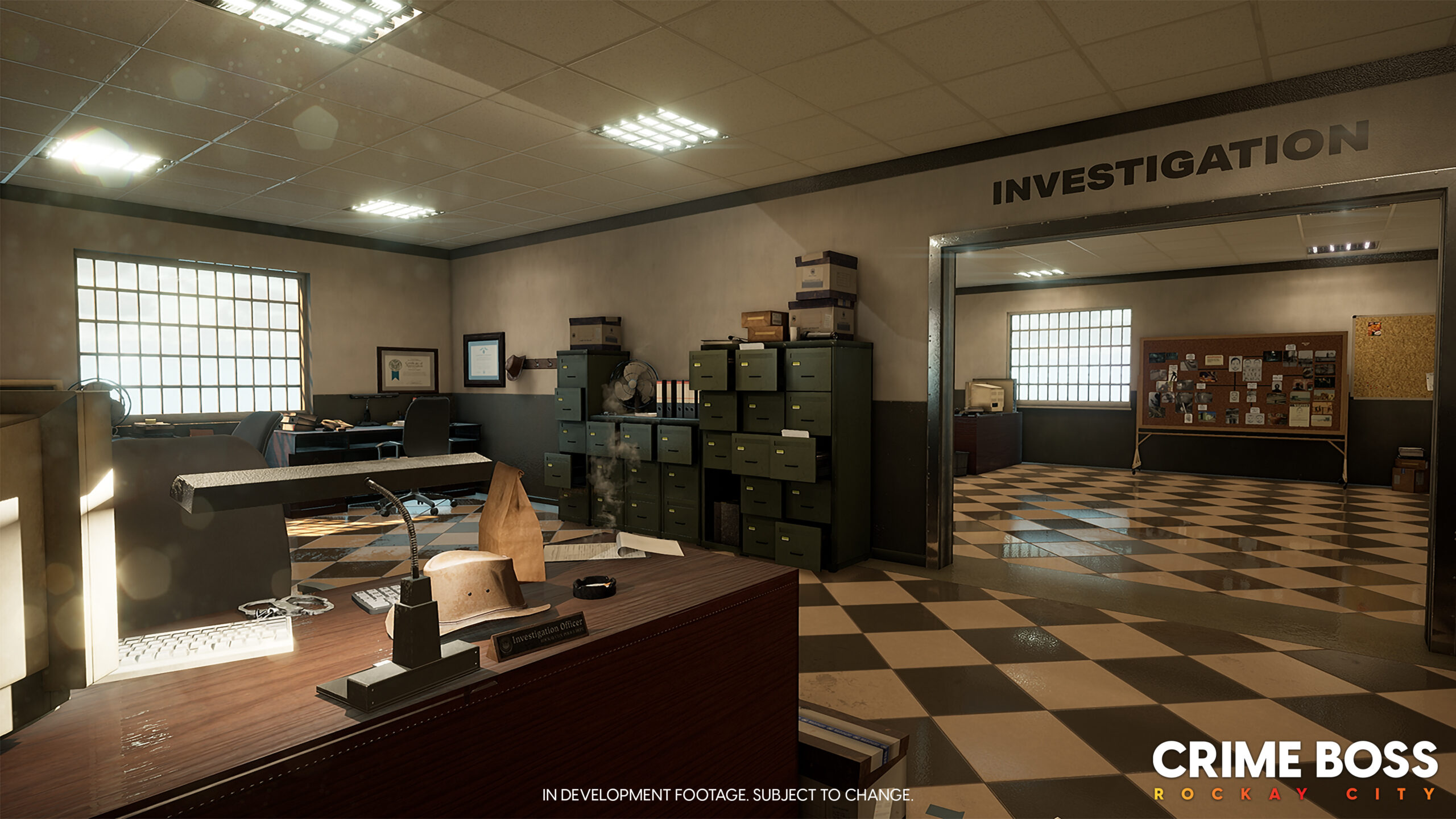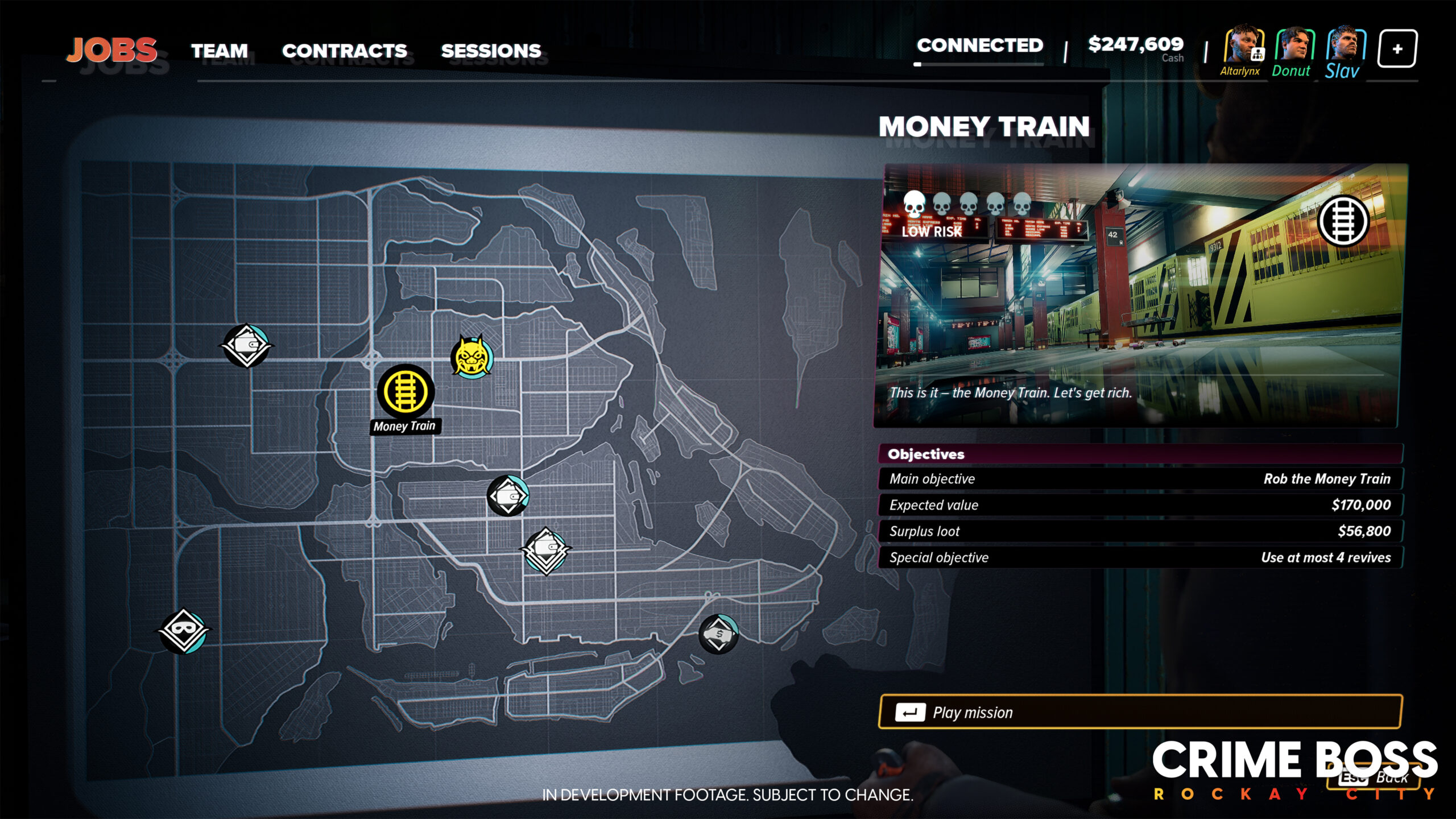 Seguiremos tomando nota de vuestros comentarios por redes sociales y os invitamos a seguir enviándonos vuestra opinión. ¡Nos parece muy importante para que la ciudad de Rockay sea una aventura genial para todo el mundo!
That's enough from us for now. Time to take over some turf!