BECOME A CRIME BOSS TODAY!
Now PS5 and Xbox Series X|S players can take on the might of Rockay City – a thriving metropolis, full of excitement and sunshine. From the buzzing sandy bay to the towering skyscrapers, dreams are made in Rockay City.
But beyond the neon lights and the glamour, there is a fierce turf war raging on…
PS5: 🌴 https://505.games/CrimeBossPS5
XBOX: 🦩 https://505.games/CrimeBossXboxXS
After the demise of the previous crime boss, there's an open vacancy for a new King of Rockay City – but it isn't just you who is fighting for the throne. Choose your crew based on their skills and expertise, and execute daring missions with the hopes of walking away with the cash, the turf and, ultimately, the crown.
Rockay is full of wild and mysterious characters – From the charismatic Travis Baker (Michael Madsen) and his team of planners and handlers (Michael Rooker, Kim Basinger, Danny Glover and Damion Poitier), to rival gang bosses (Danny Trejo and Vanilla Ice) and the righteous Sheriff Norris (Chuck Norris): it's not what you know, but who you know.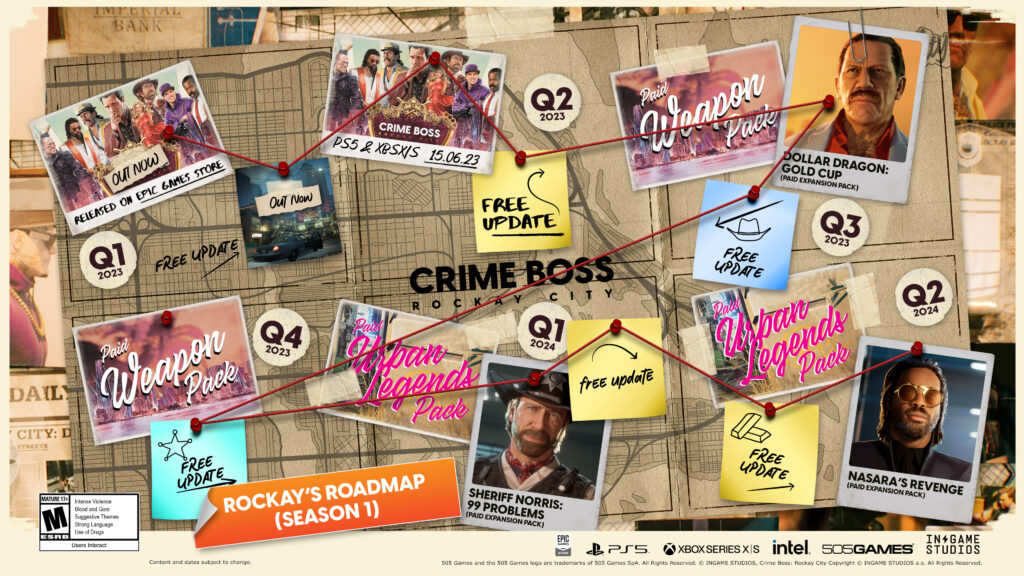 We cannot wait to welcome all of the new players into Rockay city and our Crime Boss family! If you haven't already, why not say hello in the official Crime Boss Discord HERE. Meet bosses from all across the globe with one thing in common – trying to take the Rockay City thrown! If you need people to play multiplayer with, this is also the place to be! Also our very own Damion Poitier who plays Nasara, will often make a special appearances in Discord for Q&As, livestreams and events.
TIKTOK: CrimeBossGame
TWITTER: CrimeBossGame
REDDIT: CrimeBossGame
DISCORD: CrimeBoss
TWITTER: RockayCityPoliceDepartment
TWITTER: RockayCityTourism
Have thoughts on the Crime Boss: Rockay City? Please let us know over on our dedicated Feedback Site.
So, on behalf of everyone at the Rockay City Tourist Board, welcome to Rockay City!