Check it out now, you console brothers! Right about now, you console brothers!
Get Crime Boss: Rockay City On PS5 and Xbox Series X|S, RIGHT ABOUT NOW and party like it's the 1990s!
You can get the game by following the links below!
PS5: 🌴 https://505.games/CrimeBossPS5
XBOX: 🦩 https://505.games/CrimeBossXboxXS
If you are new to RockON Magazine, you will be glad to hear that we are a group of seasoned professional journalists who really do take the time to research our articles and put out the best face of Rockay City forward.
For those of you who have already read the magazine, you will know that what we just said, is a load of rubbish.
As console players, you will be new to Rockay City, so here is our quick tour around the amazing City of Rockay!
Sheriff Norris has come to town!
Rockay City has recently acquired a new Sheriff, Sheriff Norris!
A former Marine and modern-day ranger, Sheriff Norris won't stand for crime and has promised to crush everyone who crosses the law!
Welcome to Rockay City Sheriff! Please concentrate on eating donuts (and you lot out there better hope he avoids your illegal activities). Because the donuts he eats are made of steel, and he wants to take a bite out of crime.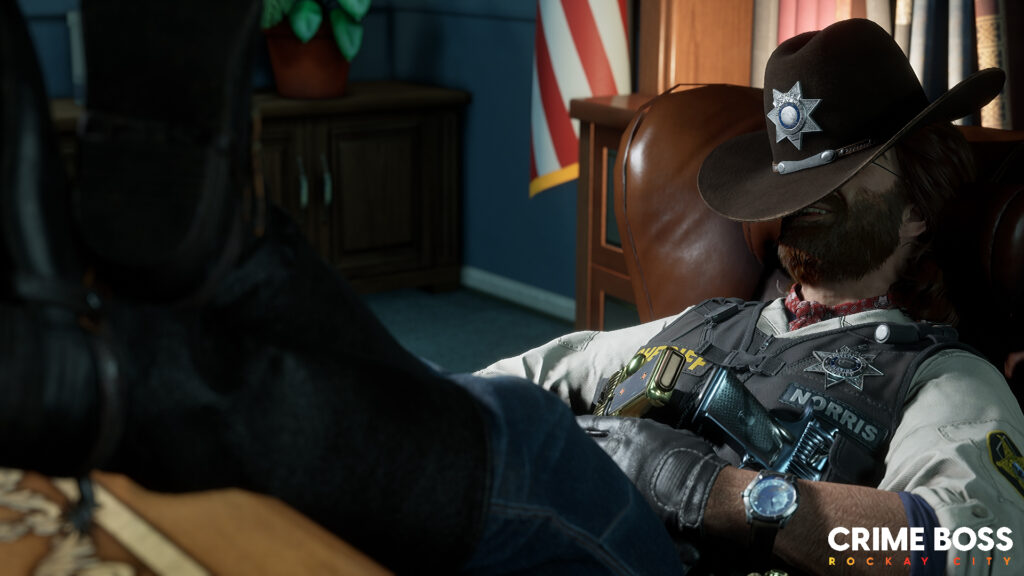 RockON Magazines Top 5 Rockay Destinations
Nautilus Keys – The luxurious suburban Nautilus Keys is full of posh condos – full of fancy expensive furniture and designer clothing. These are the kind of places no one from the RockON team could possibly afford. But we can afford telescopes.
Rockay Port – Rockay port is often called the "Cargo Gateway of the Americas". We at RockON Magazine don't know what that means, but we suspect it has something to do with cargo pants. It's also the busiest cruise port in the world in both passenger traffic and cruise lines. Time for that vaycay!
Swamp Road – Swamp Road was the first part of land to be reclaimed from the Everglades over a century ago. It now consists of industrial sites, shopping carts and unsavoury characters – like our editor in chief.
City Beach – Surfing, ice creams, sandy beaches, empty soda cups blowing in the breeze. It's not the most glamourous of places, but you won't find many tourists here – mainly due to the constant turf wars, so the beaches are always empty – happy days!
City Center – The center of Rockay City has an impressive waterfront with walkable sections. The city's memorable skyline of towers offers wonderful views of the islands, the gulf, and your uncle Dave failing at white swimming trunks in his back yard.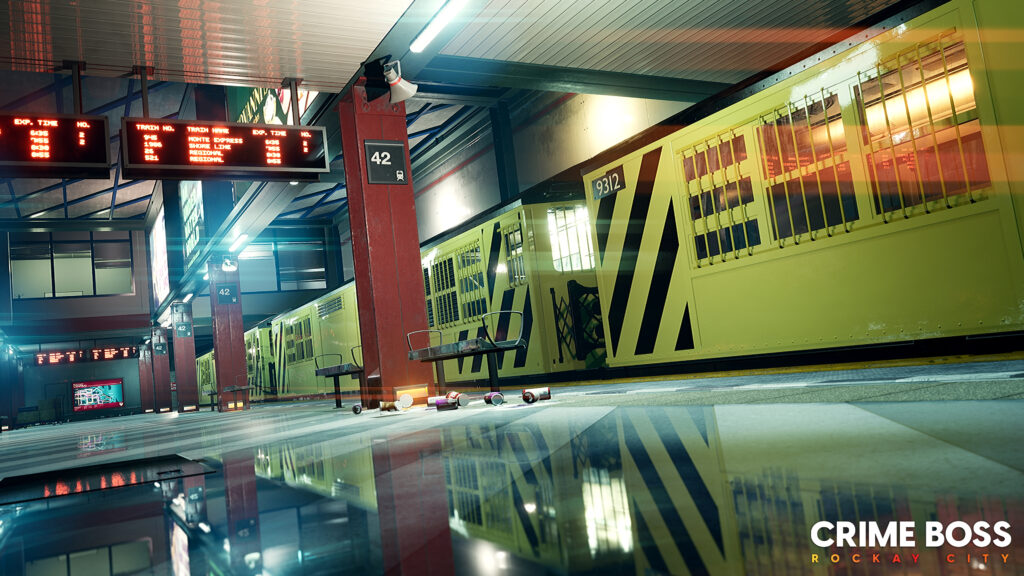 ---
When our reporters have very little to do, we often must find things for them to do. This is one of those times. We sent our Miscellaneous Topics Reporter, Karl McGnal to DownTown to mingle with the locals and hopefully come back alive and write us a report on why neon signs… are a thing!
A Sign Of Things To Come?
Star sign, neon signs, what do they mean? Some would say they mean absolutely nothing – but we at RockON magazine think they mean something, and want to make a loosely threaded story out of it. So, we sent our Miscellaneous Topics Reporter (who is from the UK) out onto the streets of Downtown Rockay to see what information he could acquire from the residents. 
Report by Karl McGnal
Alright, so neon lights, yeah? They are like the opposite of natural, aren't they… I mean, you don't see neon lights in the jungle. But they are a bit like artificial stars. But here's the thing – I don't think neon lights are as impressive as stars. I mean they are all bright and all, but they are just tubes filled with gas that have been electrified. Plus, they're always advertising something. It's all, buy this, eat that, come and watch this. It's like they are shouting at your eyes. I guess that's the point. I guess that's the point of why I'm here asking people what neon signs they like. I forgot that's why I was doing this you know.
Clive McHive is a Pisces and says he likes a Cactus neon sign… this doesn't tell me anything. One of these like the water, the other one doesn't like water. I killed a cactus once when I over watered it. It wasn't even mine. I was housesitting for a neighbour. They have since moved from the area.
Rory McGory told me he has a neon coffee sign… because he used to own a coffee shop – and then he said he was an Aquarius. At least that makes a bit of sense. Aquarius sounds like a fancy brand of mineral water to me, and they only sell expensive water in coffee shops.
---
A word from our sponsor.
RCTV GUIDE
Watch all of your favourite RCTV shows over on our TikTok channel: CrimeBossGame.
Watch interviews with the stars, gameplay footage, real life at the Rockay City Police Department (rated 1 star on ClipAdvisor) and much much more!
Want to know more about Crime Boss: Rockay City? Follow our social channels!
TIKTOK: CrimeBossGame
TWITTER: CrimeBossGame
REDDIT: CrimeBossGame
DISCORD: CrimeBoss
PODCAST: Rockay City Talk Radio
TWITTER: RockayCityPoliceDepartment
TWITTER: RockayCityTourism
RockON Magazines Top Places to Eat Out in Rockay!
Tom's Pizza – If you deviate from the menu that's when things start to go wrong. Our features editor once asked for anchovies – that was a year ago and they still have an indentation on their forehead shaped like a block of cheese. So as long as you like Margarita, Margarita with extra cheese and Margarita with no base – it's just a box of melted cheese, then you should be fine.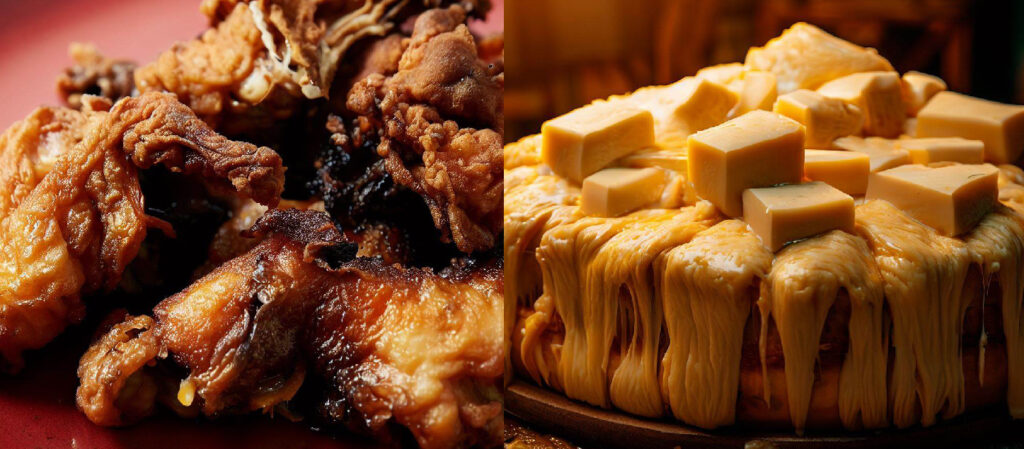 Chicken Barbeque – The RockON team have yet to have food poisoning here, so that's a good sign – It's also why it made the list! As for the food itself, it's chicken. It's just like how your mother (a mother who you really hate) used to make food – greasy, crunchy and unidentifiable. 
That Taco Place Around The Corner – We did not get diarrhoea. 11 thumbs up!
In the next issue of RockON Magazine!
MODES MODES MODES! Nasara Uncovered! …and much much more!